ProGreen MX After-Shine\5 L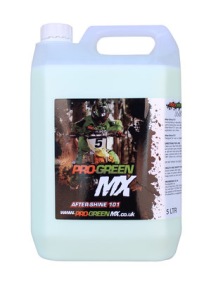 Ord. pris:
449 kr
369 kr
Inkl. 25% Moms
Art.nr:
P1782395
Du sparar:
80 kr (18%)
Antal:
Finns i lager
PROTECTS AND SHINES IN ONE APPLICATION
HIGH GLOSS FINISH TO PLASTIC AND METAL SURFACES
READY TO USE FORMULATION
PRO-GREENMX AFTER-SHINE101
Incorporating a specially chosen blend of emulsion silicones designed to leave you plastic and metal parts looking like new with a high gloss finish. A white viscous liquid, solvent free. After-Shine101 has a self levelling formulation which evens out areas of uneven application as it dries.

PRO-GREENMX AFTER-SHINE101
Designed for use on plastics, metals, aluminium, carbon fibre, titantium etc.

DIRECTIONS FOR USE
Clean your bike first with Pro-Green bike wash, ensuring you remove all traces of WD40 or simular, before applying After-shine. While the bike is still wet mist spray After-shine101 directly to bike surface. Once the whole bike has been covered, leave to air dry. DO NOT USE A CLOTH TO WIPE OVER, JUST LEAVE TO AIR DRY. Once dried a high gloss protective finish will be visable for all to see.

DO NOT SPRAY ON SEAT, BRAKES, TYRES OR HANDLE BAR GRIPS.