ACERBIS PLASTIC KIT FULL-KIT SUZUKI RMZ 250 2018, YELLOW/BLACK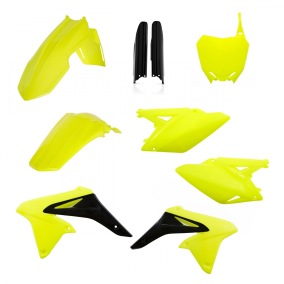 Pris:
1 399 kr
Inkl. 25% Moms
Art.nr:
P1792752
Antal:
Brand:Acerbis

Name:Plastic Kit

Product line:Full-Kit

Variant:Suzuki RMZ 250 2018, Yellow/Black

Acerbis plastic kits convince with excellent fit to the original attachment points. The high quality PVC is robust, the colours are longlasting, even under extreme outer temperatures.

Delivery includes:
1 front fender
1 rear fender
1 front number plate
1 lower fork cover for each side, left and right
1 radiator scoop for each side, left and right
1 air box cover
All Acerbis replica plastics have the original factory shape of the OEM plastic of each specific model and year.