ProGreen MX Bike Wash \1 L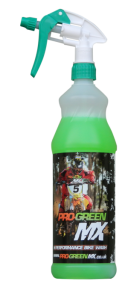 Ord. pris:
149 kr
135 kr
Inkl. 25% Moms
Art.nr:
P1782397
Du sparar:
14 kr (9%)
Antal:
PRO-GREENMX READY TO USE
Hi-performance bike wash, incorporating a specially chosen blend of fully biodegradable surfactants designed to rapidly clean every part of your race machine safely, providing a powerful penetrating action which releases the correct amount of active cleaning power to ensure perfect results every time from mud covered bikes, quad bikes, off roaders, by removing ingrained dirt, mud, grime, with the minimum of effort leaving a streak free finish. Sand and clay stains are no problem for Pro-GreenMX

Pro-GreenMX: Will not oxidise when in contact with aluminium or any other sensitive metals or anodised parts, including carbon fibre, plastic, painted surfaces etc.

BIKE CLEANING INSTRUCTIONS
Remove excess soiling from your bike via water hose or pressure washer, apply pro-green bike wash to your bike, allow the product to soak for at least 5 minutes if rushing. 15-20 minutes is the perfect soak time before rinsing off, Pro-Green bike wash is a non aggressive cleaner. By allowing 15-20 minutes soak time you are letting the product do the job it was developed for, breaking down dirt and grime without harming your bike. No brush or sponge required.

KIT CLEANING INSTRUCTIONS
Add 500ml pro-green to a bucket of warm water and submerge kit inside, leave to soak overnight. After 24hrs place kit directly into the washing machine. Wash at 30 degrees on a normal wash cycle. When finished hang out to dry. Pro-Green is excellent at removing sand and clay stains from kit. Do not use conditioners when washing your kit as this can damage your leather parts.